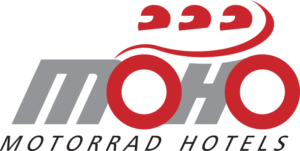 The well-kept MOHO Hotel Fünf-Dörfer is located at the gateway to Graubünden and is therefore the ideal starting point for wonderful and eventful tours. It offers every three-star comfort a motorcyclist could wish for.
Chef Markus is a passionate "biker" himself. He knows all the mountain roads and passes in the region and is available as an "insider" with advice and action!
During the motorbike season, your host Markus regularly accompanies his motorbike-loving guests personally on exciting motorbike tours. His "insider routes" lead away from the classic and well-known routes through the beautiful Grisons. In addition to motorcycling, culinary delights are not neglected. There are restaurants where the guests of the Hotel Fünf-Dörfer are guaranteed to experience something special.
Markus Gämperli and team
Especially for motorcyclists:
Tour maps with photos

Laundry and ironing service

Guided tours on request

Screwdriver box with washing area drying room

Local workshop service

Camera and GPS rental

Free cleaning products

Jacuzzi for bikers

Shopping and leisure activities
Have fun on the winding roads and in Hotel Fünf-Dörfer.
keep on riding!